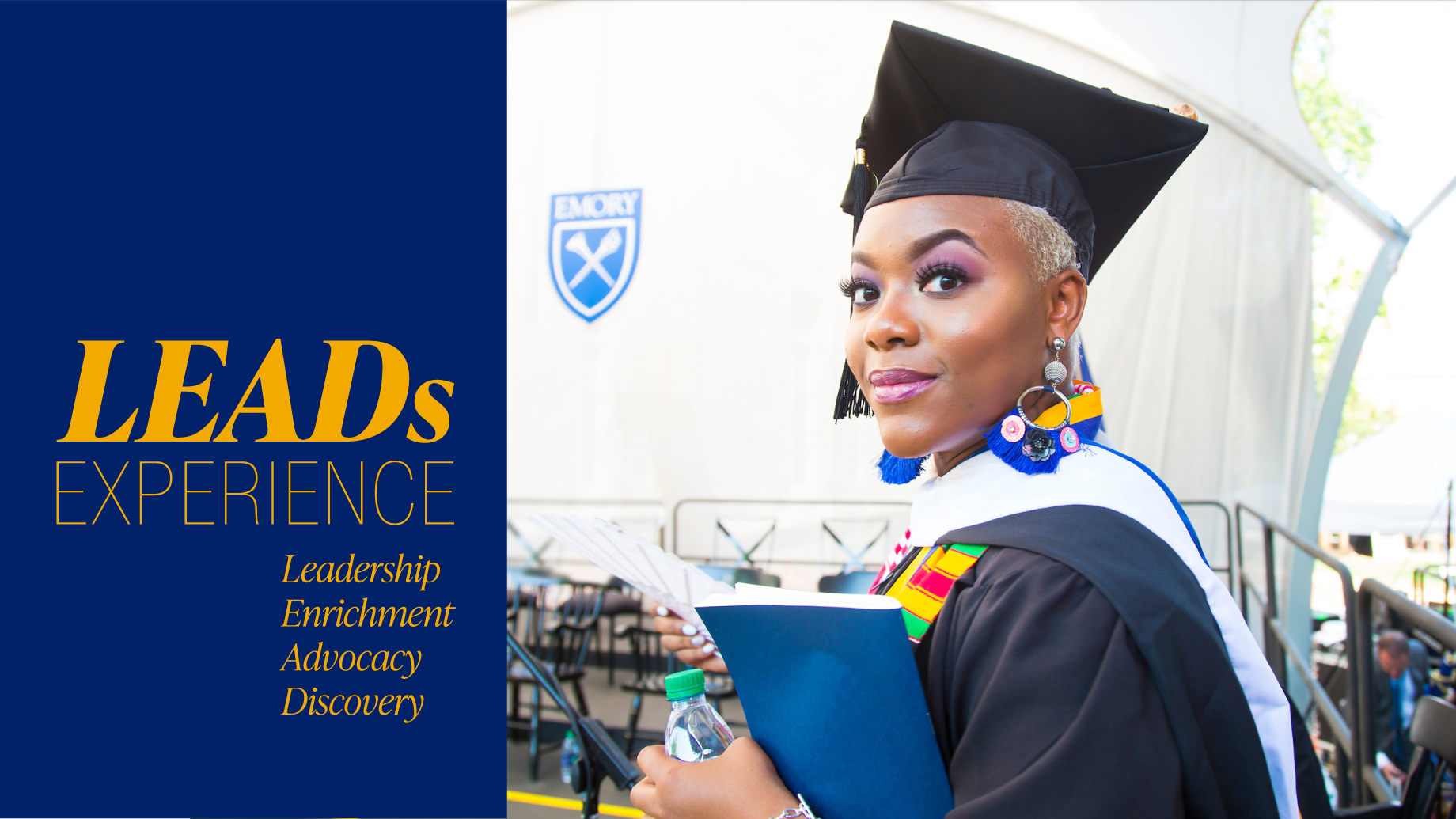 Emory LEADs Experience
A top priority for Emory University is our commitment to access, equity, and inclusion. Emory's Office of Undergraduate Admission is dedicated to creating a diverse pool of applicants from different backgrounds, lived experiences, and intellectual perspectives. We strive to shape an applicant pool that represents the breathtaking diversity of our world, including that of all backgrounds, to create a community where students aren't just existing, but one in with which students engage and intentionally learn from one another.
Introducing our emory leads experience
The Emory Leadership, Enrichment, Advocacy, and Discovery (LEADs) Experience is designed to support the recruitment of talented, high-achieving high school seniors who are either first-generation college students and/or from underrepresented cultural or socioeconomic backgrounds, including, but not limited to, Black/African American, Latinx/Hispanic, and Native/Indigenous student populations.
The Emory LEADs Experience will be a hybrid program that will take place throughout the fall.
The program will begin in September with monthly virtual programming. In addition, select students will also be invited to participate in our three-day, overnight Leadership Retreat in mid-October. Our monthly virtual webinars will conclude in December.
Our Purpose
As an additional support system, our purpose is to motivate students to learn more about themselves, develop their leadership potential, and further solidify their confidence, so that they can navigate the college application process feeling emboldened in the power of knowledge and the informed choices they make.
Through our programming, students will gain a clearer understanding of the steps and timeline associated with the college application process, including how to:
Determine the characteristics of colleges and universities most important to them
Evaluate schools with their preferences or needs in mind
Understand their strengths and weaknesses to find colleges and universities that best fit their long-term aspirations
Complete the college application in a way that showcases their authentic narrative
Our Takeaways
All Emory LEADs Experience students will receive access to:
The Emory LEADs Experience College Application Process Informational Brochure
Tailored videos and event recordings
Curated virtual webinars

The Emory LEADs Experience Live Feed
Our Timeline Of Events
The Emory LEADs Experience Application is live and will close September 8th.

The Emory LEADs Experience begins with our monthly virtual webinar.

Students are notified if they have been selected to attend the in-person Leadership Retreat.

The Emory LEADs Experience continues with our three-day, overnight Leadership Retreat for a limited number of select students to explore campus in the fall.

Due to limited hosting for our in-person Leadership Retreat, students who we are unable to extend an invitation to will still be able to engage in real time with a few of our livestreamed events or can watch their recordings later.

Late October and November

Our monthly virtual webinars (which focus on leadership development and the college admission process) will resume.

The Emory LEADs Experience concludes with one final monthly virtual webinar.
Please Note
While students need to complete an application by September 8th to be considered for the fly-in, in-person Leadership Retreat in October, our monthly virtual webinars and other LEADs Experience resources will be open to all applicants – including those who apply after September 8th.
Any high school senior interested in learning more about Emory University and the college application process can participate. However, sessions will focus on tailored programming designed to support first-generation and underrepresented students as they navigate the process.
If you are interested in participating, complete the LEADs Application.
Participation in LEADs, or lack there-of, has no impact on your admission decision or scholarship opportunities at Emory University.
Emory University does not track demonstrated interest or factor it into an applicant's decision. We believe this helps us to admit students based on who they really are.
If you have any questions, please contact us at admission@emory.edu.