Career Advising
No matter which of our undergraduate programs you choose, our students find that our individual career advising makes sure they are prepared and in demand when they graduate.
Outcomes
Within less than three months after graduation, Class of 2019 Emory College graduates are pursuing the following opportunities. (Numbers include Oxford College graduates.)
Emory College Class of 2019
Within 3 months of graduation, our students are launching their careers.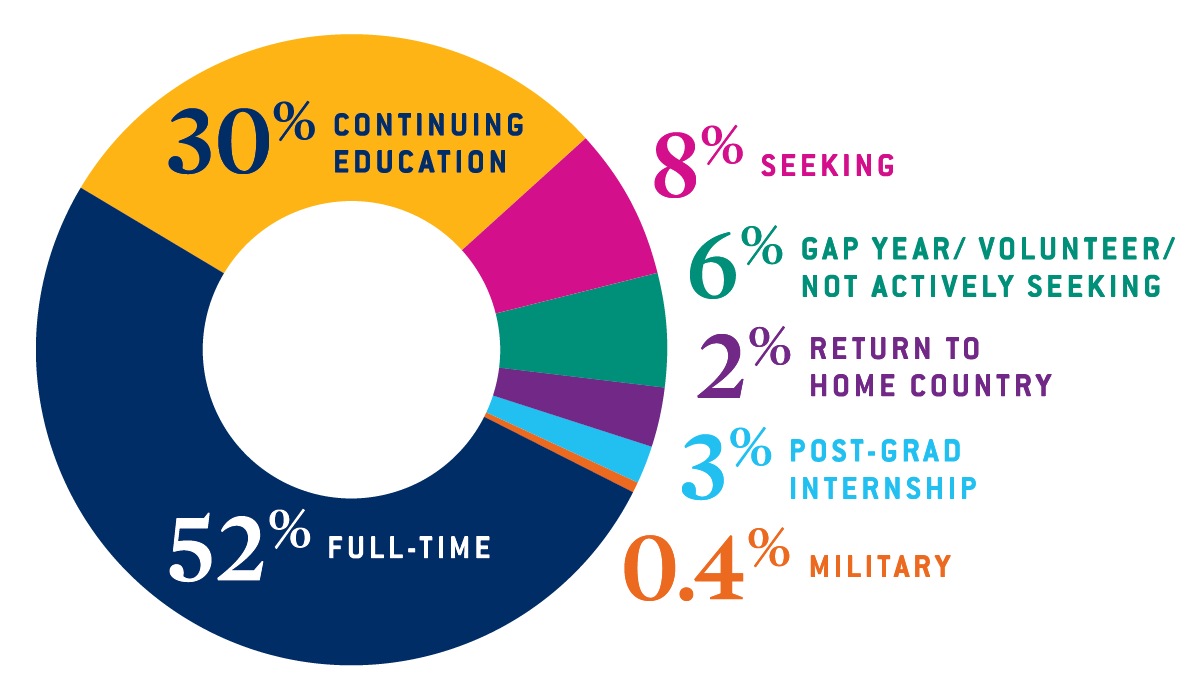 with solid plans
only 3 months after graduation
average starting salary
($48,961 national average)
Top Grad Schools
Emory University
Columbia University
Duke University
University of Chicago
Wake Forest University
New York University
University of St Andrews
University of Pennsylvania
Harvard University
Stanford University
Top Employers
Teach for America
Emory University
EY
BlackRock
National Institutes of Health
Google
Fulbright Program
Accenture
Goldman Sachs
Triage Consulting Group
Medical School Average Admit Rates
admit rate for graduates who engaged with Emory's Pre-Health Advising
admit rate for all Emory graduates
School of Nursing Class of 2018
Top Employers
Emory Healthcare
Children's Healthcare of Atlanta
UCLA Health
NYU Medical Center
Texas Children's Hospital
Atlanta VA Medical Center
And other leading Atlanta-area hospitals
pass the nursing board exam the first time
(national average: 88%)
Business School Class of 2018
Top Employers
PwC
EY
IBM
Macy's
Deloitte
J.P. Morgan
Newell Brands
Booz Allen Hamilton
Accenture
Black & Veatch
Chewy.com
Citi
Grant Thornton
KPMG
SunTrust
with offer within 3 months of graduation